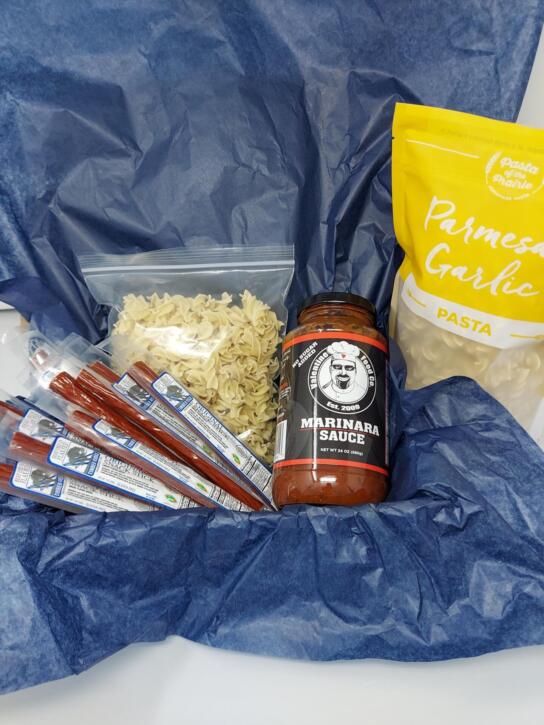 Monthly Subscription Box
Sign up to receive a monthly, hand-selected subscription box. In each box you will receive a sampling of one of our 17 products along with a complimenting product from a fellow Iowa producer – both available in our brick & mortar store in Osceola, Iowa. Subscription box flavors change monthly.
FREE SHIPPING! $35 value
This month's items:
10 Original snack sticks – The bold seasonings of Hickory smoke, black & red pepper, garlic and coriander makes our Original, healthy Omega 3 packed, no nitrate snack sticks full of flavor. One of our most popular, it is the perfect protein snack that goes with everything, anytime of day.
24oz of Valentine Food Marinara Sauce – Our sauce was created at the request of my family. We are all trying to cut carbs in our diet. Most sauces have sugar. My goal was to have a sauce with a great flavor profile without the added sugar.  VFC Marinara uses the sweetness of all-natural ingredients to produce a full-flavored marinara sauce without added sugar.
10oz of Pasta of the Prairie Garlic Parmesan Pasta – Lindsey and I started making pasta about three years ago. We both really liked pasta and thought it would be fun to make some for ourselves. We started to experiment with different flavors to add to the pasta and had so much fun making it, that we would give it away to neighbors and friends, who absolutely loved it. We then decided to start selling the pasta at our local farmers market, and since then, we have been adding new flavors, soup mixes, and pasta salad kits. We really enjoy coming up with unique pasta flavor combinations, and we always love turning that pasta into something that our customers can really enjoy.
From: $20.00 / month
Description
Additional information
What customers are saying (0)
Description
Answers to your questions:
Should subscription expire after 6/12 months? Currently, all subscriptions will last indefinitely and are charged monthly.
No expiration – correct. It will only stop once the user cancels it.
When 6/12 month subscription is selected, should $120 or $240 be instantly charged from the buyer? Currently, $20 is charged every month.
Keep it at $20 per month – correct, not due all at once.
It sounds like you chose the perfect options!
Additional information
| | |
| --- | --- |
| Weight | 64 oz |
| Dimensions | 10 × 6.5 × 3 in |
| Commitment | 12 month subscription, 6 month subscription, month to month |
Share your thoughts!
Let us know what you think...