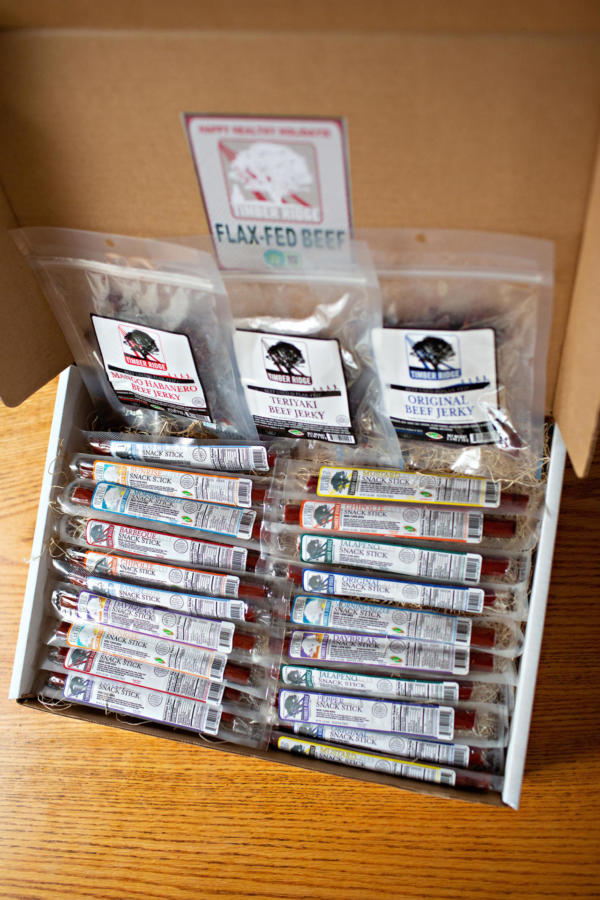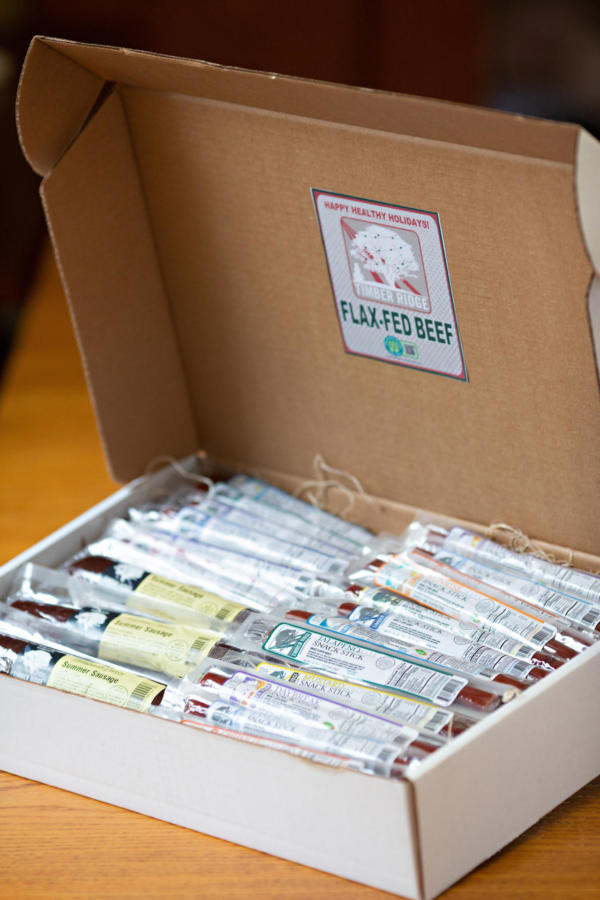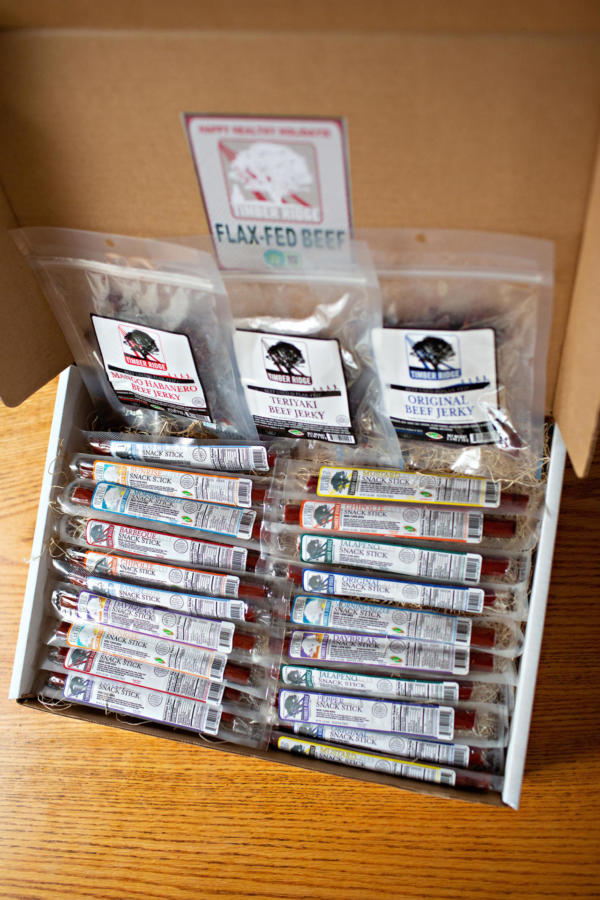 Large Combo Gift Box
What's inside:
14 – 1.oz. Snack Sticks
2 – 8 oz. Summer Sausage
1 – 2.5 oz. Jerky
1 – 2 oz. Jar Artisan Mustard
Please select your packaging option below.
"The large combo gift box was wonderful! Excellent variety of summer sausage, jerky and meat sticks. I'd definitely purchase it again!" – Jacki
$39.95
Description
Nutritional Information
Additional information
Description
The Large Combination Gift Basket includes:
17 – 1 oz.. Snack Sticks
2 – 8 oz. Summer Sausage
1 – 2.5 oz. Jerky
Features
Flax seed with its high content of alpha linolenic acid has been called a modern miracle food. The pasture raised beef used in our 90% lean Timber Ridge snack sticks and summer sausages is not only hormone and antibiotic free but is hand-fed a flax seed ration. Samples of our beef were analyzed by Iowa State University and were found to contain 5 times more Omega-3 essential fatty acids and 25% less saturated fats than the corn-fed control sample.
We chose the smoked meat process to deliver our high Omega-3 beef to the consumer because of its use of low heat. Exposure to high heat will convert healthy fats into unhealthy trans-fats. In addition, our snack sticks and summer sausage contain no MSG or sodium nitrite and have only 60-70 calories per stick. The product needs no refrigeration so it can be safely enjoyed while camping, traveling or in a packed lunch. Notable effects of Omega-3's in human diets include improved immunity, reduced risk of cardiovascular disease and anti-inflammatory relief for rheumatoid arthritis. It is important to us as a producer of food products that the beef we raise and sell not only appeals to the taste buds but is a benefit to our customer's overall health and well being. Enjoy!
-TIMBER RIDGE CATTLE CO.
U.S. Inspected and Passed by Department of Agriculture. EST.2929
Ingredients: Beef, Water, Sugar, Salt, Dextrose, Citric Acid, Spices, Celery Juice, Onion and Garlic Powder, Natural Hickory Smoke Flavor, Molasses (Refinery Sugar, Matlo Dextrin)
Additional information
| | |
| --- | --- |
| Weight | 54.72 oz |
| Dimensions | 13 × 11.5 × 3 in |
| Packaging | Standard |