Description
Additional information
What customers are saying (0)
Description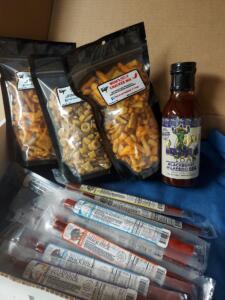 The Thank You Box includes:
**20 Assorted – 1 oz. Snack Sticks
**3 Assorted -8 oz. Cracker Mix – please choose Spicy, Mild, BBQ, or Sweet
**Either an Iowa made BBQ sauce or an Iowa made Jam! If you choose Jam –  please choose Spicy, Simple, Sweet, or Tart. Also available, Sugar free or Seedless.
A fantastic way to thank anyone for anything.
We are partnering with our neighbor, LT Farms again this holiday season & offering their snack mixes with our snack sticks – the perfect pairing for anyone on your shopping list.
Introducing Lane and Tyce Parrish. We were born into a farm family and decided to start our own small operation, LT Farms. Our farm operation consists of our own herd of cattle, chickens, ducks and show pigs. We started our career as young entrepreneurs by selling chicken eggs. The summer of 2022 we decided to try something different.
Our Mom created her own Spicy Cracker Mix and has been gifting it to family and friends for years. We thought it would be fun to support the local farmer's market and sell her cracker mix. After selling out within a couple of hours, the LT Farms snack mix business began.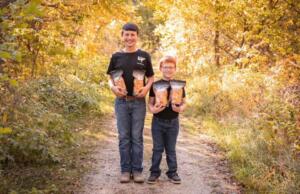 When a customer requested a non-spicy version we experimented with the seasonings and fell in love with a new combination. The final result was Lane's Cracker Mix! Tyce decided he wanted his own mix too. In the fall of 2022, after some trial and error, we came up with Tyce's Sweet and Salty Snack Mix!  To not leave Lincoln out, we released Dad's BBQ mix on Father's Day 2023!
We hope you enjoy our snack mixes! Thank you for supporting
our small business.
LT Farms
Lane (13) and Tyce (9)
Sons of Lincoln and Shawna Parrish
Share your thoughts!
Let us know what you think...